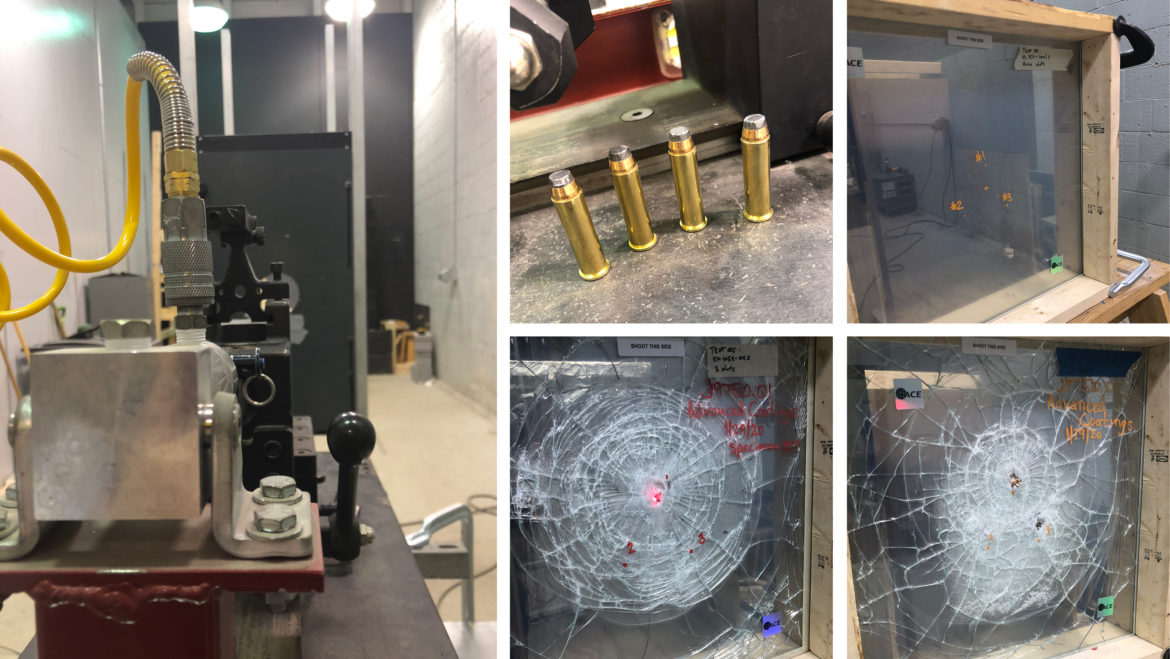 ACE announces first glass retrofit technology in the world with North American and European ballistic testing</2>
Monday March 9, 2020
ACE Polymatrix solves a leading concern in building security, the protection of glass doors and windows against active shooters
NEWARK, Delaware & OTTAWA, Canada / PR Web / – Advanced Coatings Engineering LLC (ACE) announced today ACE Polymatrix™ as the world's first retrofit technology for glass with ballistic testing to both the UL-752 and EN-1063 ballistic standards from handguns to rifle rounds. UL-752 is the commonly referenced ballistic standard in North America with EN-1063 being the commonly cited standard in European markets.
The Department of Homeland Security recognizes entrance-ways, windows and glass doors as among the most vulnerable parts of a building and among the hardest areas to secure[1]. Window security laminates are recommended as a means of reinforcing windows to protect against forced entry, bomb blasts and active-shooter-type attacks[2].  DHS recommends deployment of ballistic protection tested to the UL 752 ballistic standard for areas of particular importance[3].
"We've solved a major technical challenge for the building industry and security professionals", said ACE CEO, Peter Fabian.  "This is a technology that is thin, light weight and easily installed in schools, courthouses, police stations, civic buildings and houses of worship across the world without changing the glass".
According to the Commercial Building Energy Consumption Survey (2012), there are 5.6 million commercial buildings in the Untied States containing an estimated 8.7 billion square feet of glass, representing a significant point of vulnerability in perceived "soft targets" such as schools, hospitals, shopping malls, places of worship and civic buildings.
"Security professionals have been deploying cameras, monitoring and entry control systems for years, this is the missing piece of the building security puzzle", says Fabian.
Media contact:
Gabriel (Michael) Draven
Advanced Coatings Engineering LLC
Ottawa, Canada
888-607-0000
info@USace.com
About Advanced Coatings Engineering LLC
Advanced Coatings Engineering LLC. is the manufacturer of ACE™ security laminates, widely recognized as the best window security laminates in the world. Founded in 1991, the company's products protect secure facilities around the world.
ACE security laminates have been tested to and meet burglary, ballistic and bomb blast standards established by Underwriter Laboratory (UL-S332, UL-752), the National Institute of Justice (NIJ 0108.01), the European Committee for Standardization (EN 1063), and the General Services Administration (GSA).
For more information, visit usace.com.
To see ACE security laminates tested live, visit our Youtube page at:  https://www.youtube.com/user/acetvnews
—————–
[1] DHS, A How-To Guide to Mitigate Potential Terrorist Attacks Against Buildings, FEMA 452
[2]  DHS: Primer to Design Safe Schools Projects in Case of Terrorist Attacks and School Shootings – FEMA-428 / BIPS-07 / January 2012, Edition 2, and Incremental Protection for Existing Commercial Buildings from Terrorist Attack, FEMA 459
[3] DHS, A How-To Guide to Mitigate Potential Terrorist Attacks Against Buildings, FEMA 452